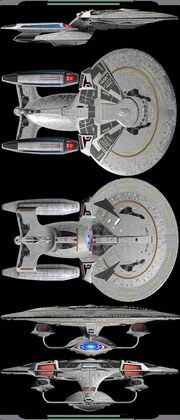 USS Lexington is a Galaxy III class starship, currently assigned to Task Force 125. She is commanded by Capt. Mike Bones.
USS Lexington

Length

641 Meters

Beam

435 meters

Decks

45

Armament

18 x Type XII phaser arrays, 4 photon torpedo launchers

support craft

Crew

100 officers, 100 cheif petty officers, 800 enlisted, 200 Marines.
Ad blocker interference detected!
Wikia is a free-to-use site that makes money from advertising. We have a modified experience for viewers using ad blockers

Wikia is not accessible if you've made further modifications. Remove the custom ad blocker rule(s) and the page will load as expected.