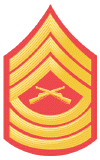 Master Sergeant is the eight enlisted rank in the Federation Marine Corps. Master Sergeants provide technical leadership as occupational specialists.
Master Sergeants advance to Master Gunnery Sergeant, while 1st Sergeant, the Command Leadership position at the same grade, advance to Sergeant Major. There is no lateral movement between Master Sergeant and 1st Sergeant.
Ad blocker interference detected!
Wikia is a free-to-use site that makes money from advertising. We have a modified experience for viewers using ad blockers

Wikia is not accessible if you've made further modifications. Remove the custom ad blocker rule(s) and the page will load as expected.