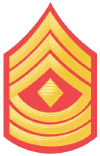 First Sergeant is the eight enlisted rank in the Federation Marine Corps. First Sergeants provide Command Leadership, usually at the Company or Battery level, and are the senior enlisted advisors to Company or Battery Commanders.
First Sergeants are the first step in Non-Judicial Punishment proceedings. They are also responsible for the training of all enlisted personnel within their unit, especially the Non-Commissioned Officers. First Sergeants are often the first person a Company Commander turns to for critical assignments.
Ad blocker interference detected!
Wikia is a free-to-use site that makes money from advertising. We have a modified experience for viewers using ad blockers

Wikia is not accessible if you've made further modifications. Remove the custom ad blocker rule(s) and the page will load as expected.